Tapagria
Location: Hong Kong, China
Designer/Architect: Aedas Interior Ltd
Lighting Designer: Firefly Lighting Design
---
---
---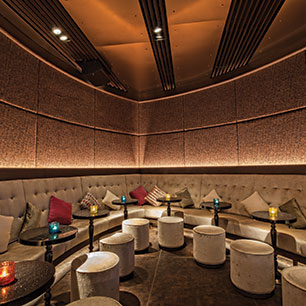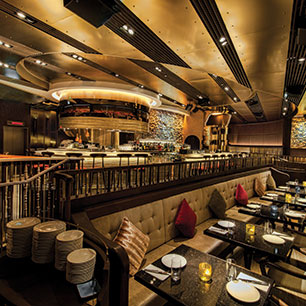 Stunning LED lighting scheme in Hong Kong hotspot delivers savings and style
Perched on the 18th floor of Hong Kong's tallest retail complex, The One is a 'three in one' dining experience. It was created by Hong Kong-based Chinese actress, Carina Lau, and Aedas Interior Ltd's award-winning designer, Ira Imerlishvili, whose signature resort and hotel projects span five continents. As well as being one of the most visually stunning places to eat in Hong Kong, by choosing the latest in LED lamp technology from MEGAMAN®, The One's restaurants will deliver a combined saving of €5,100 in electricity costs and 37,827kg in CO2 emissions per year compared to traditional equivalents*.
Taking their inspiration from as far afield as Kyoto and Barcelona, two of the three restaurants offer fine-dining experiences and the third is a glamorous tapas and sangria bar. Each of the venues has been designed to suit the themes of the country they represent. The lighting, designed by Peter Veale and his team at UK consultancy Firefly Lighting Design, has created an individual look and feel to each of the three spaces, yet used only two types of LED lamps in the various downlights.
Peter Veale comments: "It was extremely important to use lighting to create three very different dining experiences and yet have a consistency to the scheme that tied them together. As all three restaurants have floor-to-ceiling glazed expanses that deliver dramatic views across Victoria Harbour in common, we chose to unify them with concealed lines of light along the blinds, and by using only two types of MEGAMAN® LEDs throughout, were able to keep the colour temperature consistent as well."
A spotlight on fine dining
Zurriola, the Spanish-inspired fine dining experience within The One, uses largescale works of art to create drama and bring the vitality of Barcelona to its diners. As well as accenting these pieces, Firefly Lighting Design also decided to make a feature of Zurriola's floor-to-ceiling wine display. Using MEGAMAN®'s 10W LED AR111 lamp technology to light the artwork, Firefly also chose to use MEGAMAN®'s 8W MR16 28° and 36° narrow beamed LED reflector lamps to highlight the bottle labels in the wine racks. By accenting the artworks and wine racks, the end result is a sophisticated lighting scheme that brings drama to Zurriola, without causing any residual glare to the seated diners.
A taste of the Orient
Kyo-Shun, the Japanese restaurant within The One serves Kaiseki cuisine, a traditional multi-course Japanese dinner. The space has been designed to include a main dining area that overlooks an outdoor Japanese garden, as well as a sushi bar and teppanyaki tables. The lighting within the space is a mix of both the functional and dramatic. Firefly Lighting Design has incorporated integral lighting through edge-lit glass walls. The technique of 'wall grazing', dispersing light across wall surfaces, has also been used throughout and creates particular drama on the lowered ceiling in the teppanyaki dining area, using MEGAMAN®'s 10W AR111 and 8W MR16 lamps.
From siesta to sunrise
The glamorous Tapagria tapas and sangria bar in The One is a dining destination during the week that is transformed into a nightclub for the weekend. Designed using tailored timber and wood interiors to mirror the Spanish head chef's authentic cooking style, this dramatic scheme is all about contrast. The feature walls within Tapagria have been lit using MEGAMAN®'s AR111 lamps, to create the illusion of an animated water effect for a more vibrant night-club feel.
Making connections
More indirect forms of lighting have been used to connect the three restaurants together. Concealed lines of MEGAMAN® AR111 lamps have been run along the wall and ceiling panels throughout the corridor that connects the three restaurants and the restrooms to the main lift. The only direct lighting used in this space highlights the names of each restaurant to visitors on their arrival.
MEGAMAN®'s AR111 and MR16 LED reflectors are ideal for use in locations that have long operating hours, due to the patented Thermal Conductive Highway™, which uses a unique "heat drain" design across the reflectors to allow efficient dissipation of heat and prevent deterioration of the LED and other components. In addition, with their linear dimming function, the MEGAMAN® reflectors allow designers to maximise savings by incorporating them into a lighting control solution that manages artificial and natural light, as well as creating a variety of pre-programmed scenes. With its creative approach to lighting, Firefly has created a stunningly lit range of eating experiences that maximise drama, yet minimise maintenance and energy costs for the owners of The One for many years to come.
* Based on calculation of:
Operation hours: 12 hours per day, calculated based on 1 year period. Total number of light points: 300 pcs (230 x 10W MEGAMAN® LED AR111's replacing 50W halogen lamps and 70 x 8W MR16 LED reflectors replacing 50W halogen lamps)
CO2 emission factor (Hong Kong) = 0.7 kg/kWh

Download Project