ALTO
Location: Hong Kong, China
---
---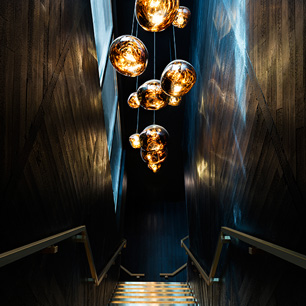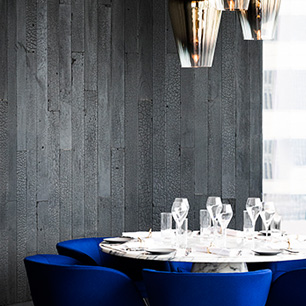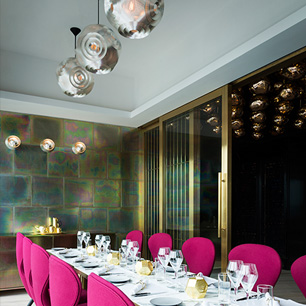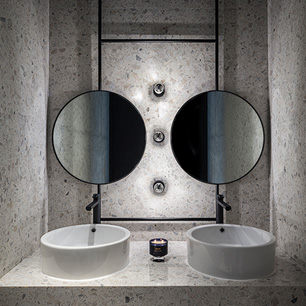 MEGAMAN® used in Tom Dixon's
First Dining Project in Asia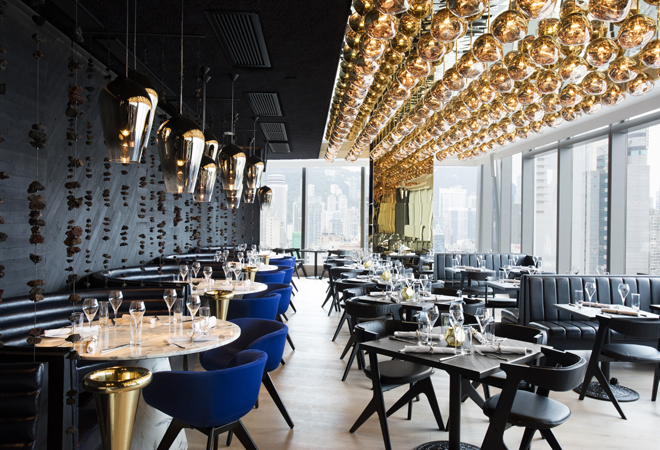 The stunning ALTO Bar & Grill contemporary restaurant, perched on the 31st floor of the iconic V Point Tower in Causeway Bay, has it all: breath-taking views of Hong Kong, the finest grilled food and Tom Dixon designed interiors.  The Tom Dixon lighting within the restaurant creates a dramatic focal point in the main and private dining areas and incorporates over 300 of MEGAMAN®'s beautiful Crown Brass and Crown Silver LED lamps.  As well as its beauty, the lighting scheme also has the additional benefit of delivering a saving of €4,357 in electricity costs per year, or €21,784 over the lamps' lifetime, compared to traditional equivalents for the restaurant*.
ALTO Bar & Grill, owned by Dining Concepts, was developed under the creative direction of Tom Dixon, Design Research Studio (DRS) and was the designer's first restaurant project in Asia. The venue has panoramic views across Victoria Harbour and draws heavily from the elemental influences of wood, stone, fire and water.  Each furnishing and fixture has been carefully selected for its association with the natural elements or for its ability to transform the ordinary into the extraordinary.  An example of this is the extensive use of green marble and terrazzo stone throughout the restaurant, that have been chosen because they embody the earth and ALTO's mountainous geographical location. 
The decision to use a monochrome backdrop to frame the views also sets off the stunning pendant lamps that have been incorporated in wide swathes throughout the main dining space.  There is an expansive canopy of 230 Tom Dixon Gold Mini Melt pendant lamps, each containing a MEGAMAN® Crown Silver LED lamp.  Melt is a distorted lighting globe born from Tom Dixon's collaboration with Swedish radical design collective FRONT.  The light bouncing and reflecting around the uneven surfaces creates a dramatic, melting hot, blown glass effect.  This is the largest installation of its kind in the world and the effect over the main restaurant space is one of warmth, drama and glamour, in stark contrast to the restaurant's blackened timber table tops and dark walls.
In the dining booths that run alongside the main dining area, Tom Dixon's Fade pendants have been chosen.  Due to the metallised outer of each of the pendants, MEGAMAN®'s LED Crown Brass lamps were used to show these lamps off to best effect.  The end result is inviting dining spaces that are separated by pools of light over each of the white marble table tops. 
Additional MEGAMAN® Crown Silver LED lamps have been used in the bathrooms to light the dramatic white marble interiors.  With three used as standalone lighting statements between each of the sinks, the end effect is sophisticated and minimalist.  In addition MEGAMAN® Gold Filament Classic lamps have been used in Tom Dixon's Curve pendants throughout the private dining space to bring that extra touch of luxury to the room.
With a unique silver-plated design and clear light bulb finish, the MEGAMAN® LED Crown Silver and Brass range offers dramatic lighting with an aesthetic touch, making it the perfect solution for decorative applications.  MEGAMAN® LED Crown Silver and Brass lamps deliver non-glare lighting (just like an incandescent lamp with a silver or brass coating). When these lamps are fitted around a mirror frame or used in stunning pendants such as Tom Dixon's, the light beam is well controlled and dramatic effects can be easily achieved.
Dining Concepts aims to 'exceed customer expectations in relation to quality dining experiences in the areas of cuisine, service and ambience'.  At ALTO, Tom Dixon's Design Research Studio has achieved and delivered a high quality, welcoming space that will keep diners coming back for more for many years to come.
*Based on calculation of:
Operation hours: 14 hours per day, replacing 303 x 25W halogens with 297 MEGAMAN® LED Crown Silver 5W lamps and 6 MEGAMAN® LED Crown Brass 5W lamps.
Editor's Note:
Dining Concepts: Dining Concepts is a progressive organization specialising in the development of quality dining experiences throughout Hong Kong with additional diversified businesses associated with the hospitality industry.  Founded and driven by restaurant entrepreneur Sandeep Sekhri, the group was established in 2002 and now operates more than 24 high performance restaurants with exciting projects under development, in addition to the associated businesses within the portfolio.