Apinara
Location: Hong Kong, China
---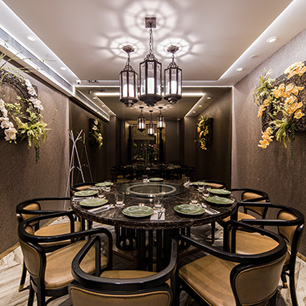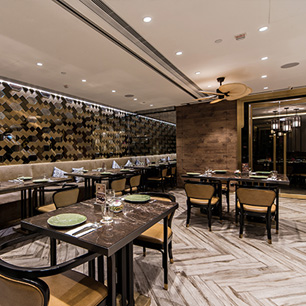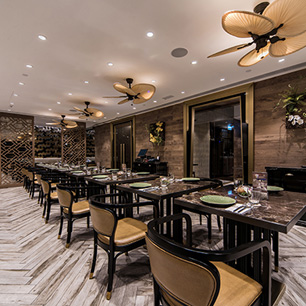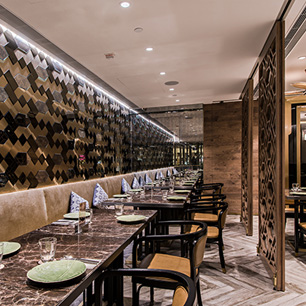 MEGAMAN® Smart Lighting Spice Up
Modern Thai Restaurant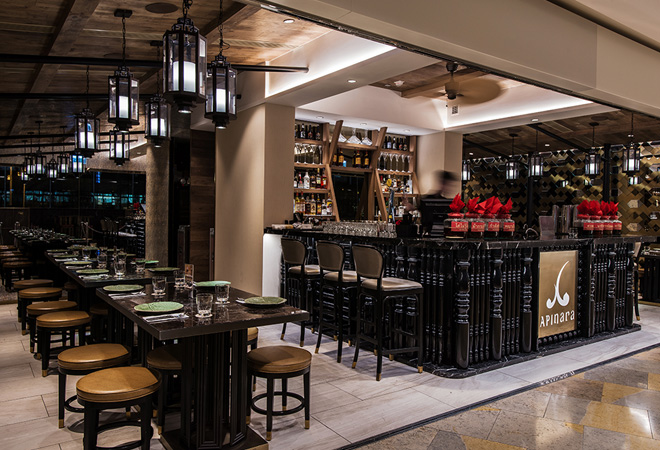 Apinara, a sister brand of the renowned Nara restaurant group, is a distinctive Thai restaurant where modernity and traditions converge. Located in Pacific Place, the upscale shopping and office complex in Admiralty, Apinara targets executives and diners who would pamper themselves with authentic Thai food and refreshing drinks after a hectic day.
With perfectly appealing dishes, Apinara thinks a welcoming environment with classy lighting and ambience is equally important as food to its customers. To bring the owner's ideal restaurant design to fruition, it appointed RN Design Studio to recreate the whole experience of graceful Thai hospitality.
Using a couple of resort-style decorative ceiling fans and accent lighting, the main dining area blends the exotic beauty of Thai culture into a well-defined contemporary setting. Pleasurable and comfortable, and rather, a place to chill out with friends and families, Apinara also features a large open bar serving an array of Thai-inspired drinks. Its luxurious wooden ambience is the place to enjoy exquisite Thai cuisines with a twist.
Lighting can have a dramatic effect on how a restaurant is perceived by your customers. Thanks to MEGAMAN
®
's brand new Dim to Warm LED lighting products, the colour temperature of the LEDs changes from 2800K to 1800K when they are dimmed from 100% to 10%, perfectly simulating the characteristics of traditional light sources.
Bringing in a scrumptious array of authentic Thai cuisines, the unique menus of exotic cocktails and desserts are highlighted with superb light quality. The MEGAMAN
®
Dim to Warm LEDs are always perfectly lit, adding an unique element into the restaurant décor.
In response to the rapidly changing needs, Apinara chooses MEGAMAN
®
Smart Lighting Solution that marries the energysaving LED lighting products and the latest lighting control. MEGAMAN
®
Smart Lighting Solution enables users to gain wireless control over all connected smart devices via a single touch of mobile device. Apinara leverages MEGAMAN
®
smart lighting solution in its hospitality environment for better energy efficiency, ease of control of smart devices, scene-setting for different moods, automatic on/off control dependent on sunlight and/or human presence. Installing a wall-mounted controller adds an element of flexibility, enabling the brightness of a venue to be adjusted to create different moods. It is easy to brighten or dim any light in any area – or entire restaurant – with a single touch.
Smart lighting opens endless possibilities for lighting control in different parts of the restaurant. From the open bar, main entrance and main dining area, to the window seats and private rooms, customers enjoy natural light in the daytime supplemented by the automatically-adjusted artificial light. Also, different moods and ambiances can be created for different occasions, thanks to the scene-setting function available in smart lighting control.
For restaurant staff, scheduling allows them to remotely control and access to the desired scenes, when to turn on/off or even control the brightness according to the restaurant's daily schedule. This convenient feature automatically responds to restaurant routine operation and task requirements.
In conclusion, the new restaurant features both a contemporary interior and smart lighting design, creating a personalised dining experience for customers, while maximizing energy efficiency and convenience for its staff. It certainly sets a good example for many discerning restaurateurs to follow.