MEGAMAN® illuminates a sustainable future at Hong Kong International Lighting Fair
(Hong Kong – 11 October 2023) MEGAMAN®, a global innovator in lighting, is shining the way towards sustainability, smart living, and creative illumination at the Hong Kong International Lighting Fair (Autumn Edition) from October 27 to 30, 2023. Under the theme "Lighting for a Sustainable Future", the exhibition will feature the latest additions in smart and energy-efficient LED lighting, including but not limited MEGAMAN® Ingenium® Matter, MEGAMAN® HAGON Damp Proof Batten and MEGAMAN® MEGA EFFICIENCY - Energy Class A LED bulbs.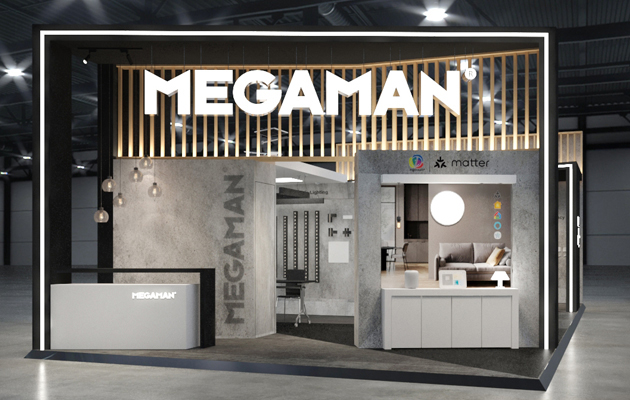 MEGAMAN® Ingenium® Matter is a versatile smart lighting solution that integrates with various platforms such as smart speakers and hubs for voice control function. It enables users to control lighting through the existing app, saving time otherwise spent on installing and learning a new one. MEGAMAN® HAGON Damp Proof LED Batten boasts a sleek one-piece extruded diffuser for a compact design, ensuring tool-less installation and modular compatibility. MEGAMAN® MEGA EFFICIENCY Class A LED bulbs have a 94% energy savings, meeting EU regulations and long lifespan. Visit us and explore how lighting could transform our living at the MEGAMAN® booth in Hall 1, 1C-B02, HKCEC, Wanchai.
About MEGAMAN®
MEGAMAN® is a global trusted brand in energy-efficient lighting. Originated in Germany, we are passionate about original design and high-quality, and have solely focused on energy-efficient lighting products since our inception in 1994. MEGAMAN®'s product and service offerings have evolved over time to meet the every-changing demands of the dynamic market. We thrive to be the leading lighting solution provider. We have made customer experience the central element to everything that we do as well as put future lighting technology within reach of our customers today.
MEGAMAN® has led the lighting industry with groundbreaking innovations that serve professional and consumer markets. Our products are distributed throughout the world mainly in Europe, Middle East and Asia.
For press information, please contact:
Linda Cheung
Neonlite Distribution Limited – MEGAMAN®
Tel: + 852 2305 1722     Fax: +852 2758 5957
Email: lindacheung@neonlite.com.hk