MEGAMAN® MILENA PRO Delivers Low-glare, Flicker-free Lighting, Ensuring Optimal Visual Comfort
[Hong Kong, 3 April 2023] - MEGAMAN® announced today the debut of MEGAMAN® MILENA PRO integrated LED downlight, an energy efficient yet powerful downlight with excellent uniformity of light distribution. The recessed mount downlight comes with two different sizes, which is a perfect retrofit for a vast range of conventional downlights in existing cut-outs. Controlled by an advanced multi-faceted reflector, MEGAMAN® MILENA PRO with low glare (UGR≤19) results in light not shining sideways into your eyes. To achieve a good balance between comfort and uniform lighting, a UGR≤19 would be suitable and is recommended for offices and schools to avoid health issues caused by prolonged exposure to light. Low-glare downlights are also characterized by 60° beam angle helps reduce glare and improve visual comfort.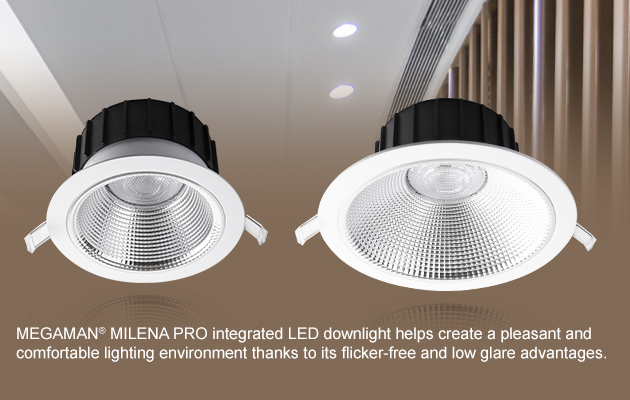 Additionally, MEGAMAN® MILENA PRO eliminates flickering at all brightness levels and effectively reduces eye fatigue. The combination of low glare and flicker-free features in delivery of uniform light distribution resulting in a more pleasant ambience than before.

To facilitate easy installation and maintenance, terminal block with through wiring is used in MEGAMAN® MILENA PRO to enhance safety by grounding, isolating, and protecting the other components in the electrical circuit. This significantly reduces installation time and saves manpower cost.

Serving up to 50,000 hours of operating hours, MEGAMAN® MILENA PRO is durable and can operates in temperature ranging from -30°C to +40°C with IP54 rating. Hence, it is ideal for damp locations such as bathrooms and kitchens.

With a sleek and modern outlook, MEGAMAN® MILENA PRO is suitable for a wide array of applications including offices, retail, bathrooms, hotels, kitchens and restaurants.
About MEGAMAN®
MEGAMAN® is a global trusted brand in energy-efficient lighting. Originated in Germany, we are passionate about original design and high-quality, and have solely focused on energy-efficient lighting products since our inception in 1994. MEGAMAN®'s product and service offerings have evolved over time to meet the every-changing demands of the dynamic market. We thrive to be the leading lighting solution provider. We have made customer experience the central element to everything that we do as well as put future lighting technology within reach of our customers today.
MEGAMAN® has led the lighting industry with groundbreaking innovations that serve professional and consumer markets. Our products are distributed throughout the world mainly in Europe, Middle East and Asia.
For press information, please contact:
Linda Cheung
Neonlite Distribution Limited – MEGAMAN®
Tel: + 852 2305 1722     Fax: +852 2758 5957
Email: lindacheung@neonlite.com.hk