MEGAMAN® LED Radar Motion Sensor Light
With a combination of daylight sensors and motion detection features, the MEGAMAN® LED Radar Motion Sensor Light automatically lights up in darkness only when it detects a person passing by, and remains lit until the person leaves, turning itself off after a certain period of time. The bulb offers excellent energy saving benefits with the use of an intelligent microwave radar sensor that deactivates the motion sensor if there is ambient light, and activates motion detection only in darkness. Its high sensitivity with a wide distance range and automatic activation capabilities means no more hunting for light switches in the dark. The lamp stays on for 60 seconds after movement is detected.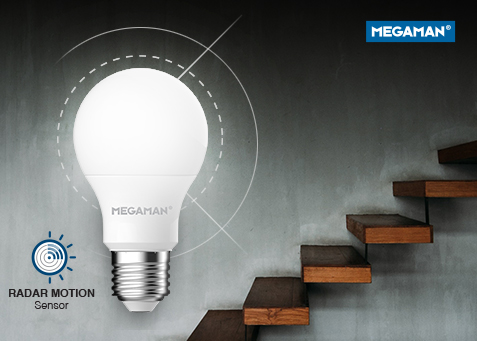 The MEGAMAN® LED Radar Motion Sensor Light is suitable for a wide variety of applications including staircases, hallway, front door, storage room, garage, balcony, gate, and anywhere illumination is required, making it an excellent choice for safety and security, as well as great energy efficiency and cost savings.
About MEGAMAN®
MEGAMAN® is a global trusted brand in energy-efficient lighting. Originated in Germany, we are passionate about original design and high-quality, and have solely focused on energy-efficient lighting products since our inception in 1994. MEGAMAN®'s product and service offerings have evolved over time to meet the every-changing demands of the dynamic market. We thrive to be the leading lighting solution provider. We have made customer experience the central element to everything that we do as well as put future lighting technology within reach of our customers today.
MEGAMAN® has led the lighting industry with groundbreaking innovations that serve professional and consumer markets. Our products are distributed throughout the world mainly in Europe, Middle East and Asia.
For press information, please contact:
Linda Cheung
Neonlite Distribution Limited – MEGAMAN®
Tel: + 852 2305 1722     Fax: +852 2758 5957
Email: lindacheung@neonlite.com.hk