MEGAMAN® TEGO 2 Integrated Downlight with Interchangeable Front Bezel Offers in-situ Selectable CCT and Beam Angles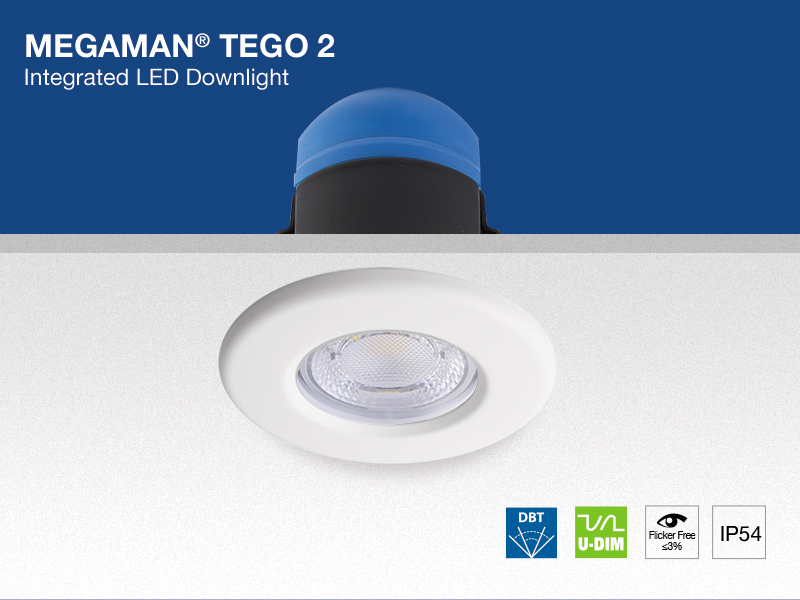 MEGAMAN®, a global brand in high-performance, energy-efficient lighting, is pleased to announce today the launch of TEGO 2 integrated LED downlight, enhancing user experience with easily changeable lighting options and contemporary designs. These attractive and compact low profile fittings are offered with a choice of bezel colours from the contemporary matt white and matt black to the ever popular polished chrome and brushed nickel. The vibrant colour choices will certainly suit any interior designs or personal preference. The bezel can easily be removed and changed for decorating purpose without removing the whole fixture. A magnet is embedded in the bezel and so it does not require any tools to unscrew or reinstall a new bezel onto the module. This magnetically interchangeable front bezel design ensures hassle-free maintenance and pleasure in living.
Another great features of TEGO 2 is that both beam angle and CCT can be changed in-situ, according to lighting preferences. With Megaman's cutting edge Dual Beam Technology (DBT), two beam angles of 60° and 36° are available in one fitting. By simply pressing the front cover, the beam angle can be interchanged easily. Dual CCT 2800K & 4000K can also be switched by turning the front bezel. This is a big advantage over the standard version CCT 4000K as colour temperature can be changed to either warm white or cool white.
With a lumen output of 650lm at 7.5W, TEGO 2 integrated downlight is dimmable and rated IP54, which is perfect for use in moisture areas, such as bathrooms, kitchens and commercial . Other advantages of TEGO 2 include long lifetime of up to 50,000hrs and tool-free wiring installation with loop in/loop out function.
MEGAMAN® TEGO 2 are stylish fittings suitable for most commercial and domestic lighting applications. Their appearance and ease of installation make them a very attractive purchase.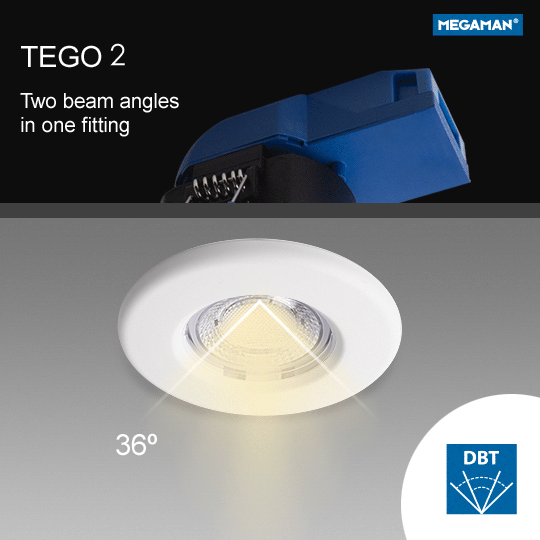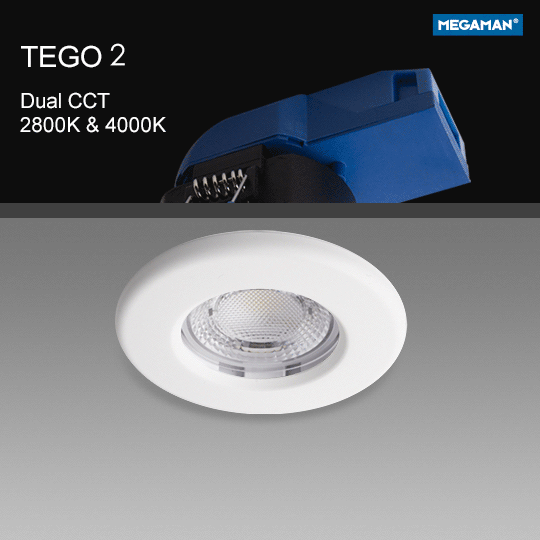 About MEGAMAN®
MEGAMAN® is a global trusted brand in energy-efficient lighting. Originated in Germany, we are passionate about original design and high-quality, and have solely focused on energy-efficient lighting products since our inception in 1994. MEGAMAN®'s product and service offerings have evolved over time to meet the every-changing demands of the dynamic market. We thrive to be the leading lighting solution provider. We have made customer experience the central element to everything that we do as well as put future lighting technology within reach of our customers today.
MEGAMAN® has led the lighting industry with groundbreaking innovations that serve professional and consumer markets. Our products are distributed throughout the world mainly in Europe, Middle East and Asia.
For press information, please contact:
Linda Cheung
Neonlite Distribution Limited – MEGAMAN®
Tel: + 852 2305 1722     Fax: +852 2758 5957
Email: lindacheung@neonlite.com.hk