MEGAMAN® Unveils ZITA Semi-recessed Lamp for Limited Ceiling Space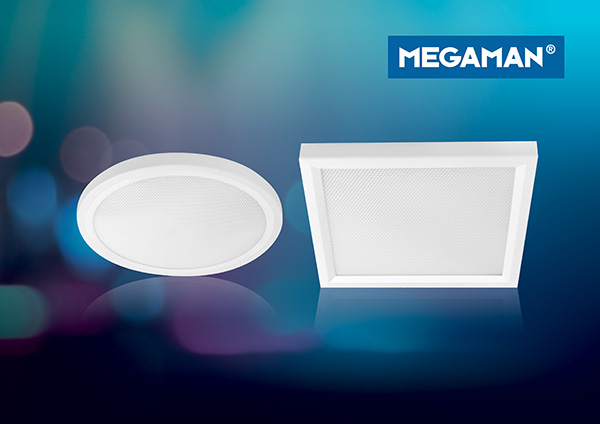 (Hong Kong – 30 January 2018) MEGAMAN®, the global innovator in LED lighting, has unveiled a semi-recessed ceiling lamp called ZITA with an ultra-slim profile. Measuring only 15mm in thickness, the MEGAMAN® ZITA is architecturally pleasing because of its extremely low profile. Using existing wiring boxes, MEGAMAN® ZITA reduces the installation cost on solid surfaces. It is also compatible with mounting holes for different junction boxes from various countries. Made with polycarbonate in white finishing, its compact and lightweight design not only adds to its sleekness but also makes installation and maintenance easier.
Thanks to its edge-lit light guide design and micro prismatic diffuser, the MEGAMAN® ZITA delivers excellent glare control and even lighting distribution. These factors create more visual comfort to the eyes and reduces eye fatigue as compared to traditional lighting.
Equipped with the MEGAMAN® U-DIM™ feature, the MEGAMAN® ZITA is compatible with both leading-edge and trailing-edge dimmers for the widest possible range of linear dimming from 100% to 5%. With up to 35,000 hours of lamp life, this semi-recessed ceiling lamp is available in round and square shape options.
Designed with robustness and waterproof features in mind, the MEGAMAN
®
ZITA has an IP44 rating, indicating its proven protection against solid objects and against water splashed from all directions. The new series is ideally suited for a wide range of applications such as stairwells, storerooms and services areas with limited recess depth.
[More Details] 
About MEGAMAN®
MEGAMAN® is a global brand in high-performance, energy-efficient lighting and an innovative leader in the use of LED with design and technology that targets the best eco-lighting solutions. MEGAMAN® products are widely distributed throughout the world, including Europe, Asia Pacific, Middle East, North America and Latin America, covering more than 90 countries and territories. By setting environmental management as one of the company's highest priorities, MEGAMAN® is focusing on eco-friendly environmental processes from initial design, to manufacturing, research and development, and the disposal or recycling of its products.
For more information about MEGAMAN®, please visit the website at
For further information, please contact:
Wendy Lam
Neonlite Electronic & Lighting (HK) Ltd. – MEGAMAN®
Tel: + 852 2378 0074         Fax: +852 2758 5957
Email: wendylam@neonlite.com.hk