MEGAMAN® INGENIUM® ZB Smart Lighting Solution and Innovative LEDs Shine at the Hong Kong International Lighting Fair (Autumn Edition) 2017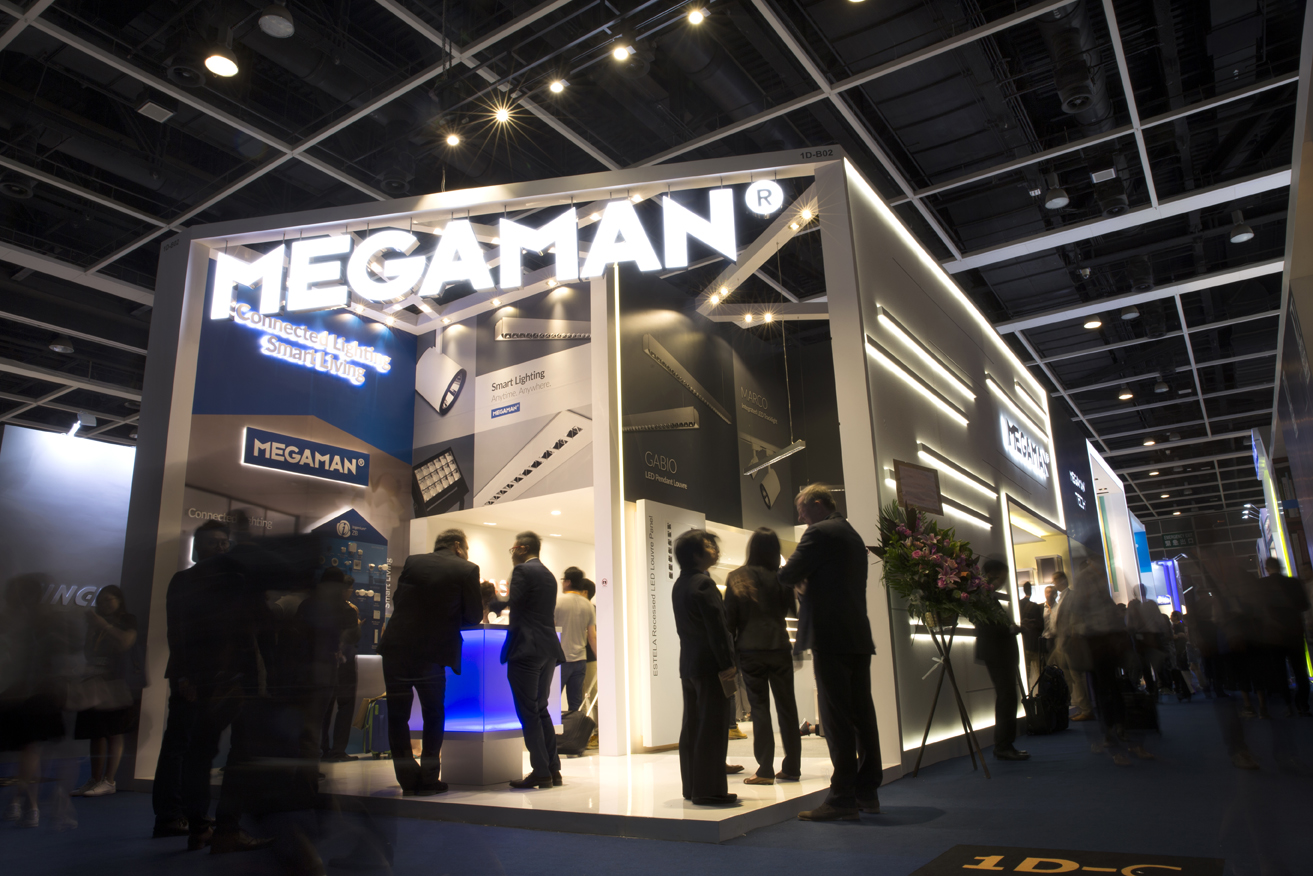 (Hong Kong – 1 November 2017) MEGAMAN®, a global lighting solutions provider with more than two decades of expertise in LED technology, showcased its Smart Lighting Solution with advanced functionality and extensive range of innovative LEDs at the Hong Kong International Lighting Fair (Autumn Edition) from 27th to 30th October 2017.
MEGAMAN® continued its previous success and staged as a major exhibitor with three themed sections at the Hall of Aurora, a sophisticated environment shows branded products to the best advantage in a handsome setting.   They include INGENIUM® ZB Smart Lighting accompanied with extensive range of LED Luminaires and Lamps, TECOH® LED Components and Commercial Lighting sections to cater different industry needs.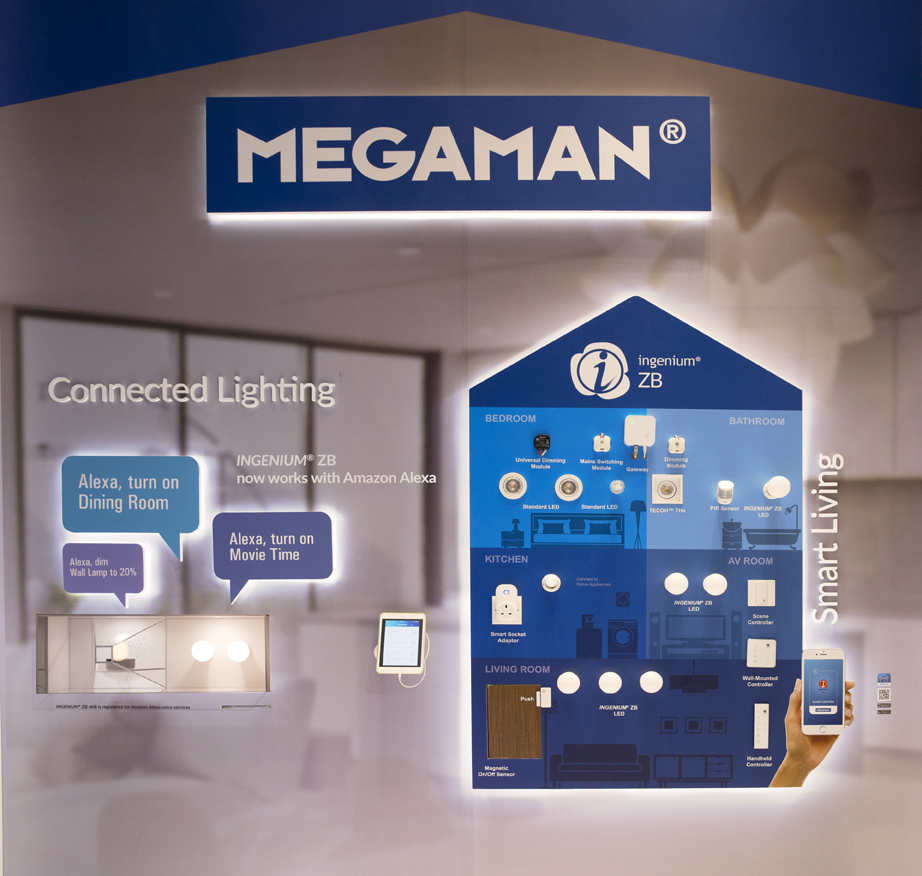 MEGAMAN® INGENIUM® ZB Smart Lighting Solution allows users experience and enjoy a new level of home automation in a mesh network by utilizing ZigBee® technology and they can add devices as needed and at leisure. Always getting smarter and adding new features, the INGENIUM® ZB Smart Lighting Solution now works with Amazon Alexa voice commands. You can simply use the mobile device or even easier – Alexa to control all smart devices of your connected home or commercial spaces.
For those who are looking for a simple start-up system for home or a scalable system for commercial projects, the INGENIUM® ZB is the perfect smart lighting solution offering wireless control via mobile phones or tablets from anywhere in the world.
To cope with the dynamic market needs, the debut of the brand new an extensive range of LED luminaires, for both indoor and outdoor applications were debuted at the show. The luminaires range includes sleek spot light, office lighting and outdoor floodlight designs. All of them are fabricated to meet high standard of luminous efficacy (lm/W), UGR and safety requirements.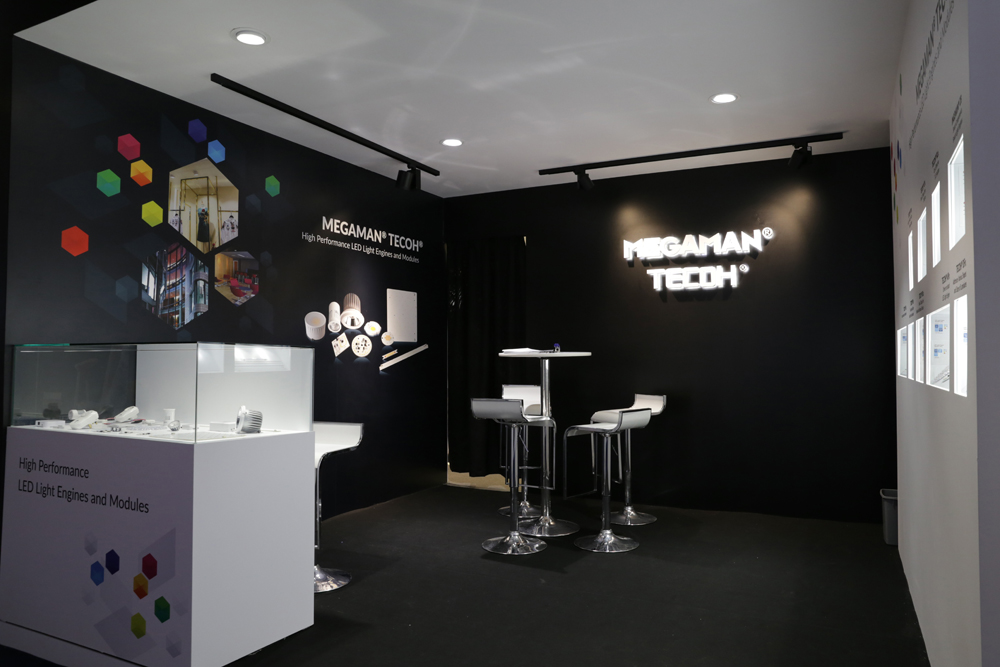 MEGAMAN® TECOH® LED Components exclusively showcases its extensive range of high performance LED Light Engines (LLE's) and Modules which have been specified as important lighting components by major lighting fixtures makers. As a forward-thinking LED innovator, its TECOH THx LED Light Engine with ZigBee® technology features a future-proof design for interchangeability with other downlights, smart lighting control and interoperability with other devices via the ZigBee® gateway.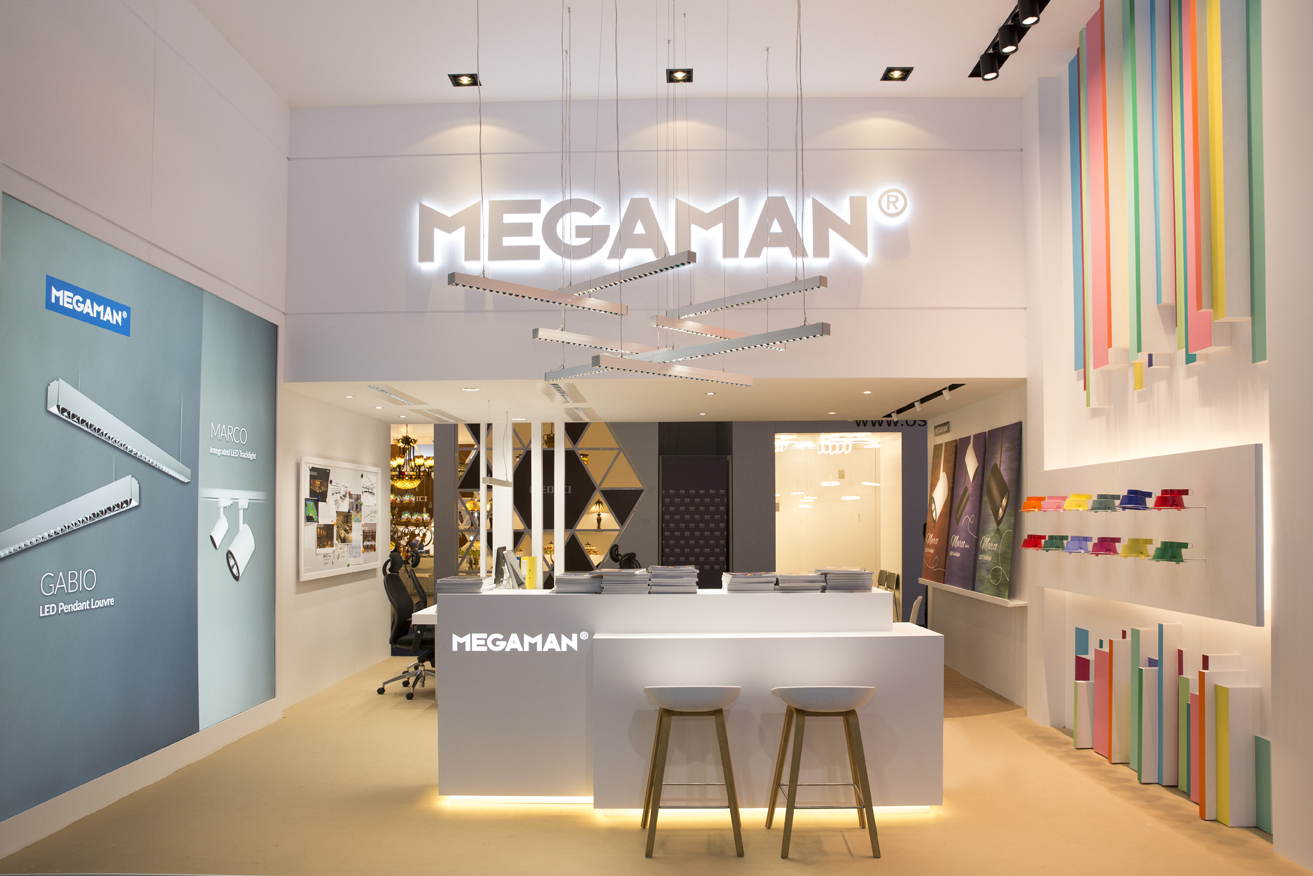 MEGAMAN® Commercial Lighting showcases the ultimate commercial lighting application for companies who really wish to enhance their brand image, identity and environment.  Visitors are impressed with our innovative LED luminaires and inspired by the latest trend and versatility of office lighting.  Also, advanced users can control, automate and create ambience or scenes to stimulate mood, reduce energy consumption and increase comfort for staff – all through the power of smart lighting control.
Fred Bass, Managing Director of Neonlite International Ltd, the brand owner of MEGAMAN®, comments: "We were delighted with the popularity of MEGAMAN® stand at the Hong Kong International Lighting Fair, and will strive to develop different market segments with potential business growth as well as cater strong demand of LEDs.  I look forward to welcoming visitors from across the globe to our next major show, Light & Building which will be held from 18th to 23rd March, 2018 - main stand (Hall 4.1 Stand H70), MEGAMAN® TECOH® Components stand (Hall 4.0, Stand G03).
About MEGAMAN®
MEGAMAN® is a global brand in high-performance, energy-efficient lighting and an innovative leader in the use of LED with design and technology that targets the best eco-lighting solutions. MEGAMAN® products are widely distributed throughout the world, including Europe, Asia Pacific, Middle East, North America and Latin America, covering more than 90 countries and territories. By setting environmental management as one of the company's highest priorities, MEGAMAN® is focusing on eco-friendly environmental processes from initial design, to manufacturing, research and development, and the disposal or recycling of its products.
For more information about MEGAMAN®, please visit the website at
For further information, please contact:
Wendy Lam
Neonlite Electronic & Lighting (HK) Ltd. – MEGAMAN®
Tel: + 852 2378 0074         Fax: +852 2758 5957
Email: wendylam@neonlite.com.hk