MEGAMAN® Unveils DINO 2 LED Integrated Waterproof Batten – A Modern Linear Luminaire for Perfect Replacement of T5 & T8 Fittings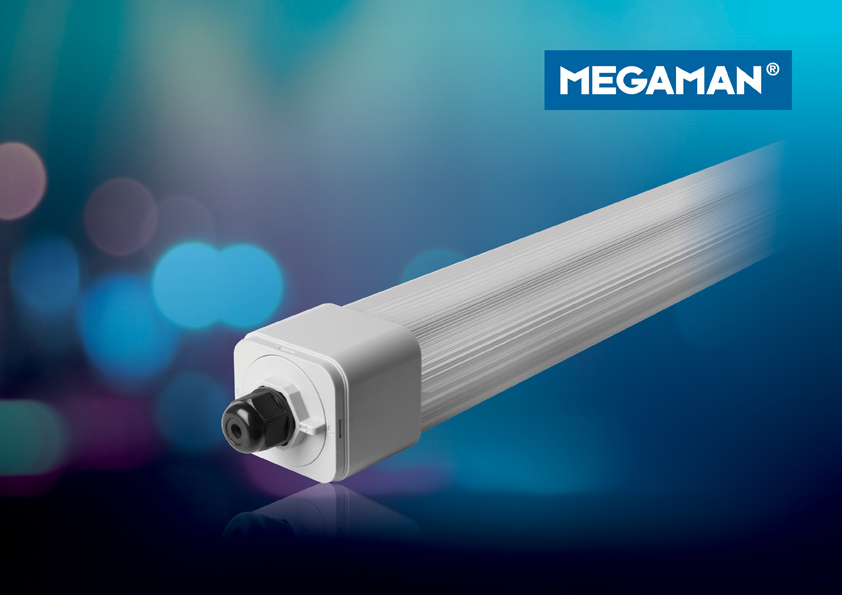 (Hong Kong – 1 June 2017) MEGAMAN® proudly launches DINO 2, a new and modern range of linear luminaire incorporating integrated LED batten that provides perfect alternative to T5 and T8 fluorescent fittings.  It offers two distinct advantages of easy and flexible installation and cost saving in the long term.

Ideal for either exterior or interior applications, DINO 2 has a UV resistant and tough corrosion proof IP66 rated casing to protect against water and dust and is IK08 vandal resistant, whilst its tough polycarbonate body and prismatic diffuser offers a long life with low maintenance.   The installation of DINO 2 is easy and flexible through sliding stainless steel clips and it enables the usage of existing mounting holes to replace traditional lighting fittings. Cable entries and through wiring also allow for linear series connection.

With a unique feature of wide 330° exit window and a high lumen output of up to 6500lm, DINO 2 offers an even light distribution and high uniformity at 70% lumens at 50,000 hours. Available in 19.5W to 63W variations and three different lengths, with the option to include a PIR Sensor, DINO 2 provides a good source of saving energy and security purpose.

Designed with a solid and durable casing, DINO 2 is ideal for a wide range of applications including car parks, walkways, corridors, warehouses and underground areas in addition to harsh environments.



About MEGAMAN®
MEGAMAN® is a global brand in high-performance, energy-efficient lighting and an innovative leader in LED and CFL lamp design, with technology targeting the best eco-lighting solutions. MEGAMAN® products are widely distributed throughout the world, including Europe, Asia Pacific, Middle East, Africa and South America, covering more than 90 countries and territories. By setting environmental management as one of the company's highest priorities, MEGAMAN® is focusing on eco-friendly environmental processes from initial design, to manufacturing, research and development, and the disposal and recycling of its products.
For more information about MEGAMAN®, please visit the website at
For further information, please contact:
Wendy Lam
Neonlite Electronic & Lighting (HK) Ltd. – MEGAMAN®
Tel: + 852 2378 0074         Fax: +852 2758 5957
Email: wendylam@neonlite.com.hk