MEGAMAN® Outdoor Integrated LED Floodlight TOTT series: Achieves Superior Performance than Traditional Counterparts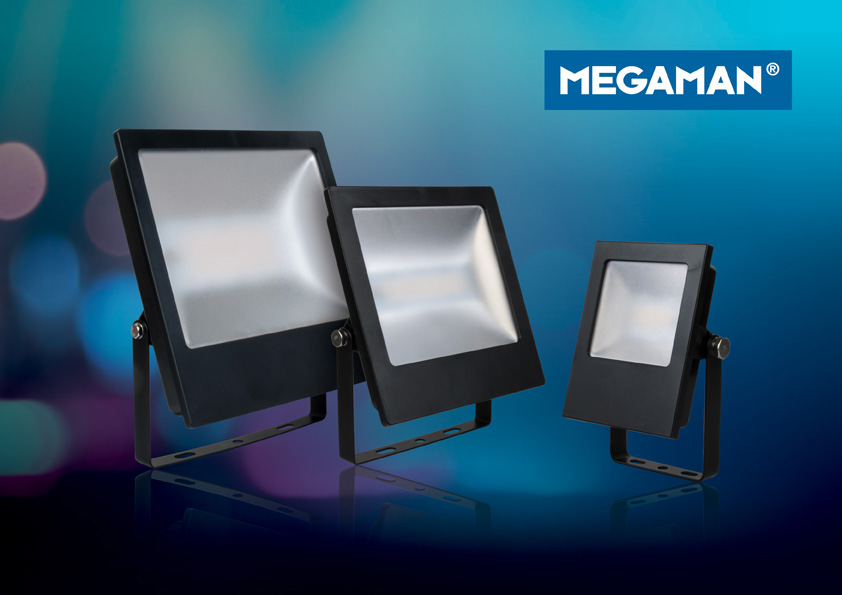 (Hong Kong – 12 April 2017) MEGAMAN® has unveiled the Outdoor Integrated LED Floodlight TOTT series which is tough, durable and long lasting. Thanks for our advancement in LED technology, the TOTT series provides ambient lighting with superb heat dissipation and offers significant savings in energy consumption and maintenance cost over traditional floodlights.
Designed with a built-in integrated driver, TOTT series has three sizes with high lumen packages up to 96 lm/W and long service life of 35,000 hours. It is ideal for different applications of domestic security lighting, outdoor signage, billboards, gated areas and pillar façades.
TOTT series has IP65 protection against water and dust, and a strong polycarbonate rust-free housing for vandal resistance that makes it an exceptionally durable and long-lasting solution. It is designed with an improved diffusor for superior glare control in delivering broad-beamed and balanced light source.
The LED floodlight is compact in size and lightweight. The feature of an adjustable arm for flexible tilting makes the floodlight easy to install and retrofit to any existing home and/or building. In addition, the TOTT series is supplemented with accessories including a working stand in three different sizes as well as a universal outreach arm for specific job requirements.
Installing outdoor integrated LED floodlights is an easy, energy-saving and cost-effective project that will give your building's exterior an inviting ambience, increased functionality and added security at night.
About MEGAMAN®
MEGAMAN® is a global brand in high-performance, energy-efficient lighting and an innovative leader in LED and CFL lamp design, with technology targeting the best eco-lighting solutions. MEGAMAN® products are widely distributed throughout the world, including Europe, Asia Pacific, Middle East, Africa and South America, covering more than 90 countries and territories. By setting environmental management as one of the company's highest priorities, MEGAMAN® is focusing on eco-friendly environmental processes from initial design, to manufacturing, research and development, and the disposal and recycling of its products.
For more information about MEGAMAN®, please visit the website at
For further information, please contact:
Wendy Lam
Neonlite Electronic & Lighting (HK) Ltd. – MEGAMAN®
Tel: + 852 2378 0074         Fax: +852 2758 5957
Email: wendylam@neonlite.com.hk