MEGAMAN® Goes Beyond Lighting at Hong Kong International Lighting Fair (Autumn Edition) 2016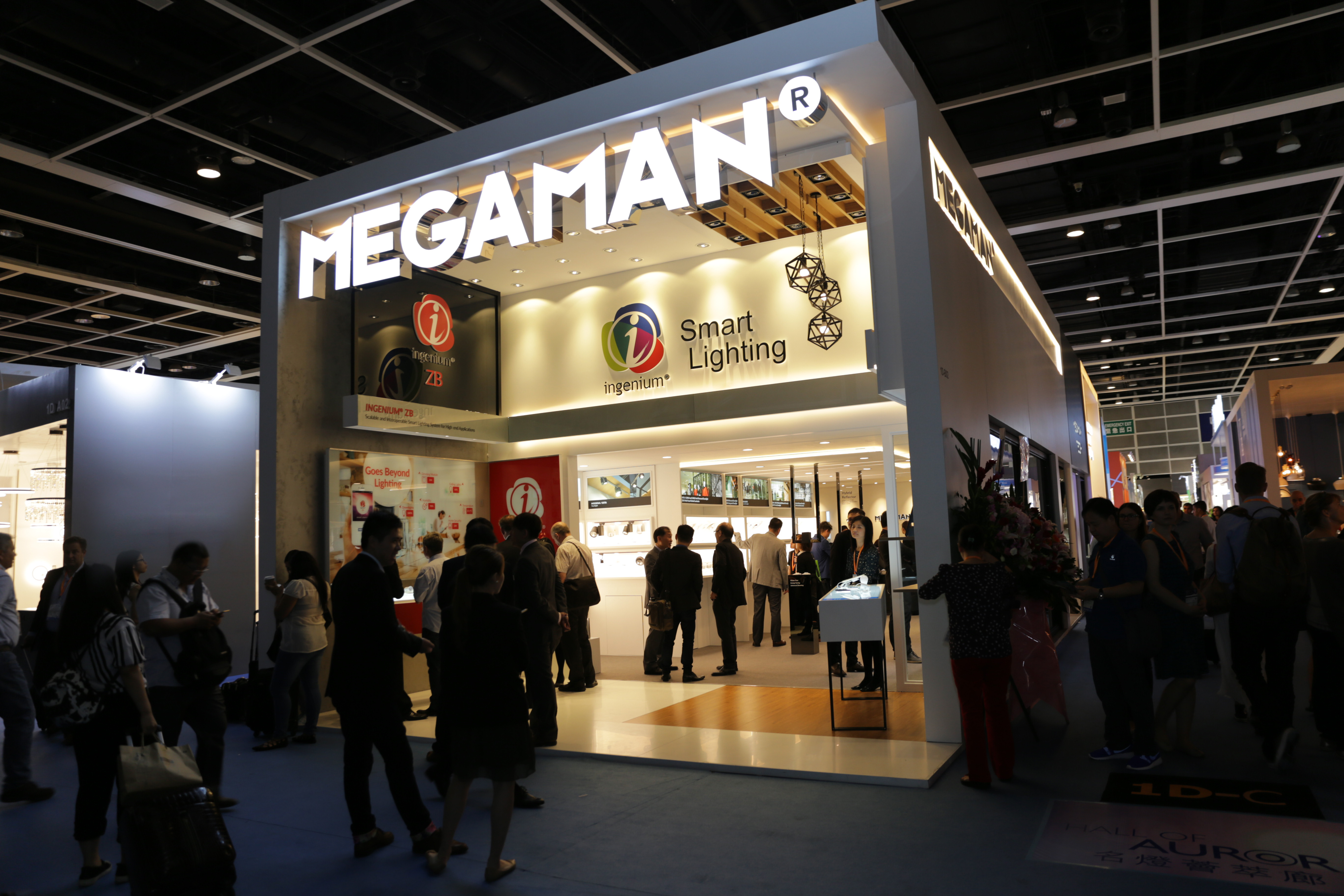 (Hong Kong – 3 November 2016) MEGAMAN® continued its previous successes and staged as a major exhibitor at the Hong Kong International Lighting Fair 2016 (Autumn Edition) in October with an inspiring range of innovative LED lighting solutions. They were showcased in three themed zones under one roof - INGENIUM® Smart Lighting, TECOH® LED Components and Retail Lighting which gave clarity and focus to the Stand and catered for different industry needs. The Stand attracted thousands of visitors to experience the advantages and features of MEGAMAN®'s innovative LEDs.
INGENIUM® Smart Lighting where visitors could experience the wireless control of MEGAMAN®'s INGENIUM® BLU and INGENIUM® ZB Smart Lighting Solutions which are perfect for home and commercial applications, new build or retrofit.  Using a smart device or one of our remote controls, visitors can control on/off, dimming and scene-setting of the environment to create the desired ambience with the touch of an app. Allowing them to pre-set or create the perfect ambience for different occasions from anywhere.
Fixture makers and specifiers were particularly interested in the TECOH® LED Components zone and its extensive range of high performance LED Light Engines (LLE's) and Modules which are custom-made to suit their specific needs. The MEGAMAN® TECOH® portfolio comes in different shapes, sizes and lumen packages to address a wide range of different applications.
MEGAMAN® Retail Lighting was well received by all who came and browsed the life like high-end fashion boutique.  Seeing is believing - a real example of a retail lighting application could create an inviting ambience to welcome customers, highlight display merchandise with vibrant colours, enhance customer experience and ultimately help drive sales.
Fred Bass, Managing Director of Neonlite International Ltd, the brand owner of MEGAMAN®, comments: "We were delighted to demonstrate MEGAMAN® INGENIUM® BLU and INGENIUM® ZB Smart Lighting technologies for home automation, working on our KISS (Keep it Simple and Smart) principle INGENIUM® are suitable for both home and commercial applications. Our lighting solutions were also clearly exhibited by showing our LED sources & fixtures alongside TECOH® LED Components and Retail Lighting project applications, reflecting our commitment to unlock further growth in LED technology by adding value to our services."
For more information, please visit: www.megaman.cc/HKLF2016.
About MEGAMAN®
MEGAMAN® is a global brand in high-performance, energy-efficient lighting and an innovative leader in LED lighting design, with technology targeting the best eco-lighting solutions. MEGAMAN® products are widely distributed throughout the world, including Europe, Asia Pacific, Middle East, Africa and South America, covering more than 90 countries and territories. By setting environmental management as one of the company's highest priorities, MEGAMAN® is focusing on eco-friendly environmental processes from initial design, to manufacturing, research and development, and the disposal and recycling of its products.
For more information about MEGAMAN®, please visit the website at
For further information, please contact:
Wendy Lam
Neonlite Electronic & Lighting (HK) Ltd. – MEGAMAN®
Tel: + 852 2378 0074         Fax: +852 2758 5957
Email: wendylam@neonlite.com.hk