MEGAMAN® Unveils New RICO LED Downlight with Hybrid Reflector and U-DIM™ Technology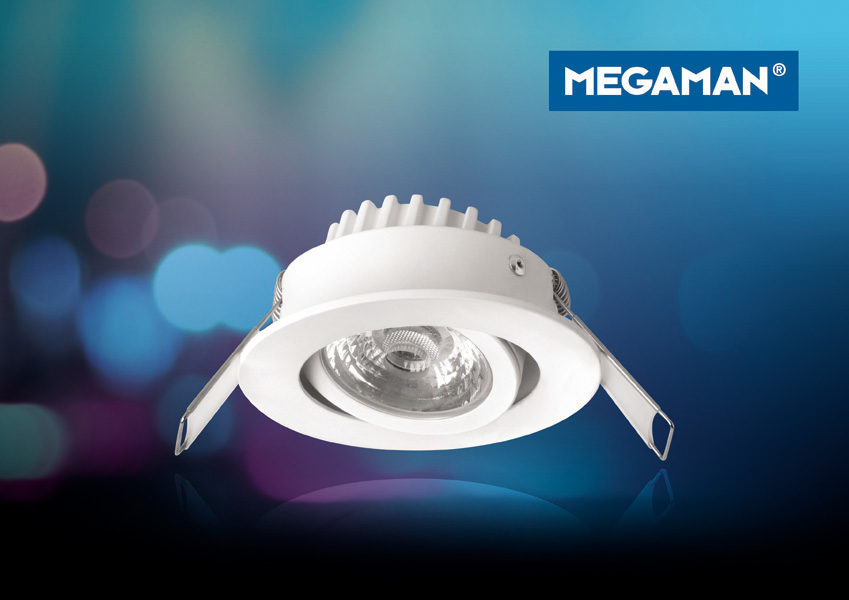 (Hong Kong – 27 October 2016) MEGAMAN®, a leading LED lighting solution provider, launches a new series to its RICO LED downlight at the Hong Kong International Lighting Fair (Autumn Edition) 2016. The ultra slim RICO HR series features the ground-breaking Hybrid Reflector and U-DIM™ Technology for excellent beam control and compatibility with external dimmers.
Designed to be an environmental-friendly replacement for halogen MR16 and GU10 downlights, the RICO HR series with a height of only 30mm is ideal for any ceiling recess with a limited depth. The Hybrid Reflector LEDs combine the best features of MEGAMAN®'s popular facetted reflector range with the total internal reflection of its optical reflector to provide a solution that performs even better than competing LED technologies. This technology enables it to deliver excellent beam control in directional lamps, optical efficacy and less spill light. It is suitable for small cabinets and furniture lighting where space is severely restricted.
The new RICO HR LED downlights also incorporate MEGAMAN®'s U-DIM™ technology, ensuring maximum compatibility with the majority of both leading-edge and trailing-edge conventional dimmers at a dimming range of 100% to 5%.
Available in 6.5W (up to 500lm) and 9W (900lm) options, 2800K and 4000K colour temperatures and with 50,000-hour lamp life, the 36° beam angled RICO HR LED downlight is IP44 rated, making it suitable for humid indoor areas or outdoors where water may drop or flow against the bulb or fixture.
A 9W Rich Colour option is also available and is ideal for those looking to maximise the richness and quality of colours of objects on display with high colour rendering of up to Ra95.  
The ultra slim size of RICO HR LED downlight allows for minimum storage and transportation costs, making it an obvious choice for modern-day lighting professionals and consumers.
About MEGAMAN®
MEGAMAN® is a global brand in high-performance, energy-efficient lighting and an innovative leader in LED lighting design, with technology targeting the best eco-lighting solutions. MEGAMAN® products are widely distributed throughout the world, including Europe, Asia Pacific, Middle East, Africa and South America, covering more than 90 countries and territories. By setting environmental management as one of the company's highest priorities, MEGAMAN® is focusing on eco-friendly environmental processes from initial design, to manufacturing, research and development, and the disposal and recycling of its products.
For more information about MEGAMAN®, please visit the website at
For further information, please contact:
Wendy Lam
Neonlite Electronic & Lighting (HK) Ltd. – MEGAMAN®
Tel: + 852 2378 0074         Fax: +852 2758 5957
Email: wendylam@neonlite.com.hk