MEGAMAN® Launches Upgraded INGENIUM® BLU Mobile App, Enabling Seamless Control of Smart Lighting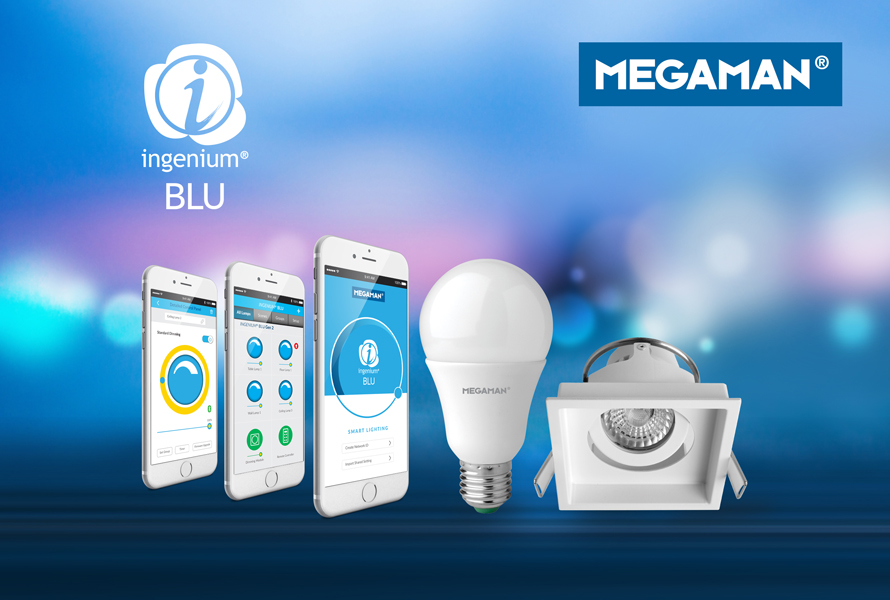 (Hong Kong – 27 October 2016) MEGAMAN® has expanded the scope of its advanced LED lighting controls by releasing an upgraded INGENIUM® BLU app. MEGAMAN® INGENIUM® BLU LED lighting products featuring Bluetooth 4.1 technology can connect to the mobile app for lighting control. With enhanced features and an intuitive interface, the upgraded INGENIUM® BLU app delivers a more seamless and simpler user experience.
In addition to the smart control of INGENIUM® BLU lamps, the upgraded INGENIUM® BLU app also enables users to control a wide range of MEGAMAN®'s existing standard LED lamps and luminaires. Users can simply attach the INGENIUM® BLU Dimming Module to these standard LEDs, and enjoy all the benefits of smart lighting from their standard LEDs. A handheld Controller is also available for children or the elderly who do not have access to mobile devices.

Designed with a simple and easy-to-use interface, the upgraded INGENIUM® BLU app allows users to control up to 64 MEGAMAN® LED lamps/modules simultaneously and create their desired mood. The functions include on/off switch, brightness adjustment, linear dimming; pre-set timing for on/off; grouping of lighting products in different rooms for easy control; scene-setting for repeated use and many more. This app also features the capability for cloud-based updates, which allows users to receive notifications from time to time for OTA (over the air) firmware upgrades.
Simple and affordable, INGENIUM® BLU offers the most economical way for home or commercial users to enjoy the benefits of smart lighting. Just three steps away – download the new INGENIUM® BLU app, install the INGENIUM® BLU lamps or modules, and open your app – you can then enjoy precision scene setting and greater energy saving with smart lighting.

The New App is available on both the Apple App Store and Google Play Store.
About MEGAMAN®
MEGAMAN® is a global brand in high-performance, energy-efficient lighting and an innovative leader in LED lighting design, with technology targeting the best eco-lighting solutions. MEGAMAN® products are widely distributed throughout the world, including Europe, Asia Pacific, Middle East, Africa and South America, covering more than 90 countries and territories. By setting environmental management as one of the company's highest priorities, MEGAMAN® is focusing on eco-friendly environmental processes from initial design, to manufacturing, research and development, and the disposal and recycling of its products.
For more information about MEGAMAN®, please visit the website at
For further information, please contact:
Wendy Lam
Neonlite Electronic & Lighting (HK) Ltd. – MEGAMAN®
Tel: + 852 2378 0074         Fax: +852 2758 5957
Email: wendylam@neonlite.com.hk