MEGAMAN® Helps Electricians and Designers Get Ready for the Halogen Ban With the Launch of a New Website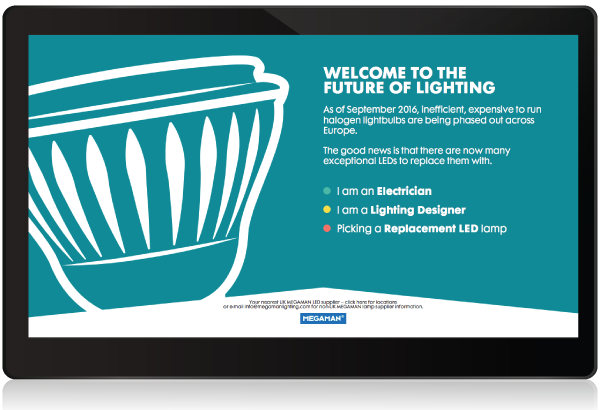 (UK – 27 July 2016) Are you ready for the halogen ban coming up in September 2016? That is the challenge being put to electricians and lighting designers on MEGAMAN®'s new website - www.planfortheban.eu – that goes live today.   


With halogen directional lamps being phased out across Europe from September 2016, the new website is designed to help electricians communicate the changes to customers and to give lighting designers an overview of the incredible benefits of the latest LEDs.  


www.planfortheban.eu offers advice for electricians and lighting designers to help them prepare to educate their customers about the benefits of LEDs compared to halogens. A brochure for end users explaining how LEDs can save them money, energy and reduce CO2 is available to download. There is lots of information and it is quick and easy to navigate and can help specifiers work out savings for their customers too!


So, make sure you are planning for the ban by visiting www.planfortheban.eu
About MEGAMAN®
MEGAMAN® is a global brand in high-performance, energy-efficient lighting and an innovative leader in LED lighting design, with technology targeting the best eco-lighting solutions. MEGAMAN® products are widely distributed throughout the world, including Europe, Asia Pacific, Middle East, Africa and South America, covering more than 90 countries and territories. By setting environmental management as one of the company's highest priorities, MEGAMAN® is focusing on eco-friendly environmental processes from initial design, to manufacturing, research and development, and the disposal and recycling of its products.
For more information about MEGAMAN®, please visit the website at
For further information, please contact:
Wendy Lam
Neonlite Electronic & Lighting (HK) Ltd. – MEGAMAN®
Tel: + 852 2378 0074         Fax: +852 2758 5957
Email: wendylam@neonlite.com.hk